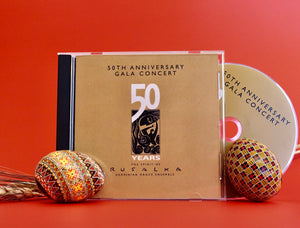 50th Anniversary Gala Concert DVD
Since 1962, Rusalka has been proud to call the Ukrainian National Federation Hall in the North End of Winnipeg its home. From this modest bast, the ensemble has travelled far and wide, proudly showcasing its art form to appreciative audiences throughout the world.
The tradition continues with this 17-piece 50th Anniversary concert featuring O. Koshetz Choir and the Hoosli Ukrainian Male Chorus.